SELECT SOUND WORKS, 2021

PARKED
SCORE & SOUND DESIGN
Film by
Yoon Hei Cho
---
회귀 REGRESSION
SCORE
Film by
Herry Kim
.
" In Regression, I explore the sense of detachment and confusion caused and accelerated by pattern recognition/pattern generation technology. It is a surreal and speculative science fiction that reveals colliding emotions through a metaphorical social structure."
---
A CLOUD IS A CLOUD
SCORE
Film by
Emily Yue
---
VIDEO LETTER
SCORE
Film by
Moon Wang
---
DANCE

SWELL
FOLLICLE
Composed with Shuwen Zhao
Choreographer, Taylor Donofrio
---
FANTASTIC MR. FOX
SOUND DESIGN (REDUB)
An exercise in sound effects, foley, and backgroud sound, this project is presented without any aspect of the original sound. Each sound was manipulated or recorded specifically for this clip.
---
空虚的心情

SCORE & SOUND DESIGN

Empty Mood
is a collaboration with Shuwen Zhao. Its name refers to a blank, open mindset in which an unknowable feeling or mood can be experienced.
---
THREE SOUNDS
& AN IMAGE

SOUND DESIGN
A still image with three different sound worlds each lasting for a minute:
The first is currated ambience & background sounds
The second minute contains gentle music
The third concludes with a voice over.
---
WORLDBUILDING
SCORE & SOUND DESIGN
Making your way up a path, you notice the desolate surroundings which prepare your focus and mind by melting away the anxiety of normal life. Stumbling upon a cave, you feel an urge—a call, even—to enter.
---
A MEDITATION ON ORANGE
SCORE & SOUND DESIGN

The rising sun, the succulence of a cantaloupe, or the glow of molten lava and igneous rock. Orange is a mixture of red and yellow—it extends into the realm of gold and blood.
---
BIOLOGICAL INTERNAL FEEDBACK

SCORE & SOUND DESIGN

Inspiration is unique to each individual and mine resides in the natural world. This video is a blending of the environment which surrounds me, and the creative expression that it gets transmuted into. A conversation between analog textures and physical reality, the video and the audio highlight their similarities.
---
TINY MOON SOUNDS
LIVE SOUND DESIGN

While creating portion of the soundtrack for
Moon Wang's
animationed short film,
Ride.
Ưsing percussion sounds from my sound library, I wanted to create small sounds that created a satisfying, ASMR-like soundscape.
---
RECORDINGS

SELECT WORKS
For a full selection of recorded work, please vist
this link
. These pieces were all created 2020–21 and explore more experiemntal techniques and textural sounds. Most of the environments exist in a world between
sound design
and
composed music
creating its own style of narrative.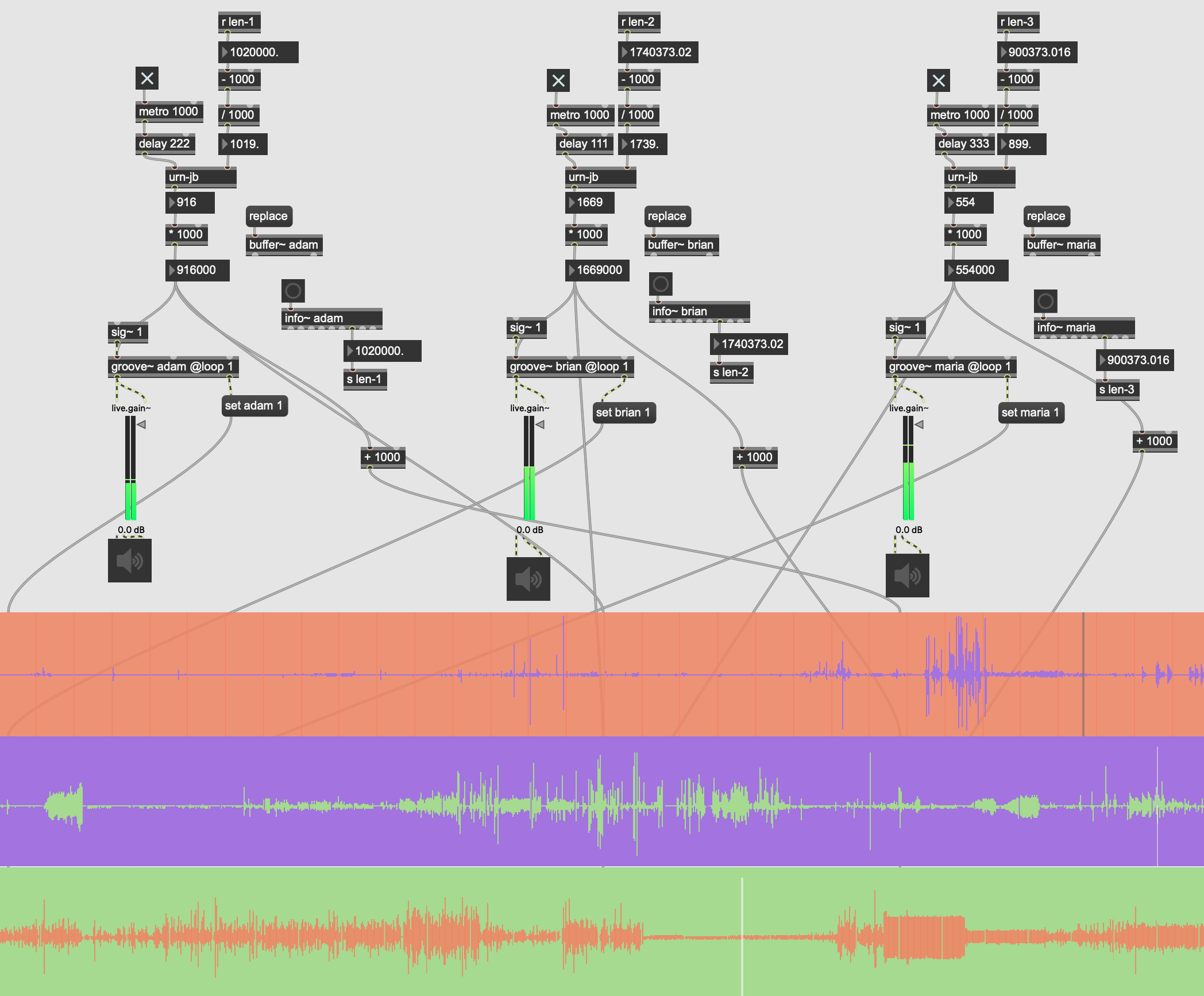 This is a collaboration with
María Bulla
and
Adam Zuckerman
where we each recorded for one minute over the course of a month. The image above is a Max patch designed to randomly play one second from each one.
"Tranquil Pond"
---
BRIAN GRIFFITH is an experimental sound designer and composer who uses simple objects reimagined, sculpted, and layered to create unique, yet familiar worlds.
Los Angeles, California